Lanikai Beach
Welcome to Lanikai Beach one of Oahu's most iconic beaches. With its white sand, crystal blue water, and mokolala islands in the background it is one popular stop on the east side of Oahu. It happens to be one of my favorite beaches too and there is so much to do here!
If you are a fan of long walks along the beach, this is a dream destination for you. This is a perfect beach to walk with your loved one, friends, or family becuase the sand is so soft and the beach is flat. There are a few houses near the edge and I just can't get over how lucky these homeowners are. That is a million dollar view.
If you are a water lover like me, this beach is like heaven on Earth! It has some of the best snorkeling on island! I have seen tons of fish and even turtles here. The coral starts really close to shore so it's a perfect beach for families to swim at together. If you don't have your own snorkel gear Kailua Beach Adventures is right down the road and a great place to rent from!
Of course this is such an iconic beach it't not uncommon to see weddings, photo shoots, and of course big Hawaiian socials at this beach. Its always a fun place to be no matter the occasion. Bring lots of sunscreen because shade is limited.
One of the most common activities at Lanikai is SUP and Kayaking! A lot of people try to Paddelboard or Kayak to the Mokes. If you try do so it is important to know you MUST purchase a landing permit so talk to your rental company about the details. If you are caught landing without one you can face a pretty hefty fine.
When my best friends came for Spring Break we rented one Paddle Board in hopes of making it to the Mokes -- but sadly did not. Three girls on board did't work out like we planned :) But it was still super fun paddling around! If you are ready for the full treck - try Flat Island from Kailua beach it is only about 1 mile journey!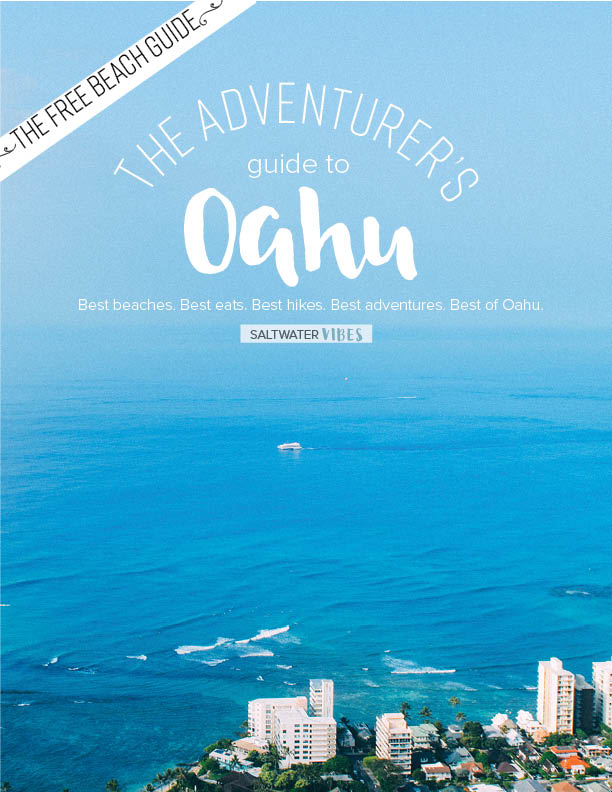 check out some of the best beaches on Oahu in this FREE guide
you will unlock full details on three of the best beaches on oahu
If you are looking for some rental companies these are some cheaper and reliable companies:
I highly recommend getting a Kayak or SUP becuase it is such a fun way to see the ocean! You can go so much further than if you were just swimming, it is one of my favorite activities.
If you aren't a fan of the beach but still want a beautiful view you can hike the Lanikai Pillboxes that sit above the beach! It is a fairly easy hike that is so so worth it. The water from up here looks picture perfect! You can check out everything you need to know in my post here.
Lanikai Beach is located on the East side of Oahu. Your GPS will be able to direct you but you will take the Pali Highway until it turns into the Kalanianaole Highway. You will turn onto Kailua road and drive past Kailua beach until you are in a neighborhood. The road with the beach access does not have parking, so please legally park throughout the neighborhoods.
warning
Lanikai Beach is very safe, but always keep in mind changing tides and currents. Be mindful that boats, paddle boards, and kayaks pass though. There have been shark sitings so always keep in mind marine life is present. Also becuase you are in a neighborhood always be respectful of their property and always clean up your trash.